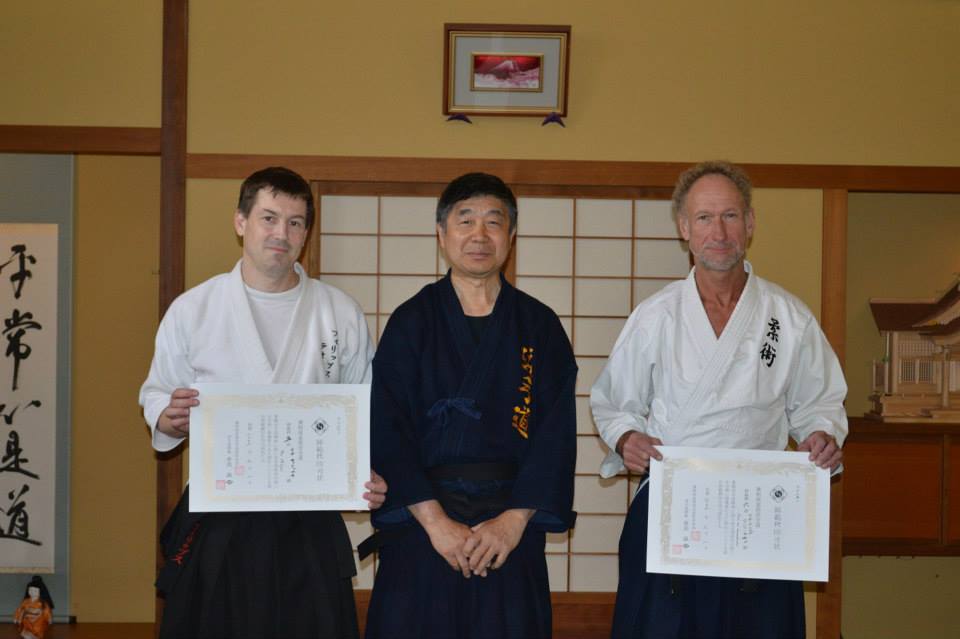 Dani system which gives certainty to master the system
People can list up several reasons why so many Budo (Japanese fighting systems) could have attained worldwide popularity.  Most people think it is because of the aspect that almost all Budo put emphasis on its mental effect to improve calmness, stability of mind and to improve person's humanity itself.  It could be, of course, true but I would like to point out one more important point that almost all Budo have. That is Dani 段位 system by which not only a person who is training those Budo but also the others can clearly and easily recognise one's level objectively.  And also all the curriculum and syllabus are provided clearly so that everybody can step up higher level with certain clear view. And it causes the practitioners certainty how far they could go up and how long it might take. No other fighting systems in the world could be so well prepared for the practitioners as Budo, I might say so.
How Dani system is settled
Dani is divided into two groups as Kyu degree and Dan degree. And in most of the cases Kyu starts from 7th and goes up to less numbers until 1st Kyu.
7th -> 6th -> 5th -> 4th -> 3rd -> 2nd -> 1st  Kyu —– → 1st Dan
Kyu level is regarded as beginner's level.  So 7th Kyu is just started training and 1st Kyu is finishing beginner's level and is ready to go up to master course.  It depends on the characteristics of the systems how long it might take to complete all the Kyu courses.  Certain Budo like Judo and Karate which require more speedy movement that can only be attained by daily continuous hundreds times of simple repeating practise and accordingly it takes longer time to complete the course, say 2-4 years.  On the other hand, such Budo like Jujutsu which consists of bundle of knowledge and requires deeper understanding instead of repeating hundreds times of simple practise might take shorter time, say within 1-2 years.
Then let's explain Dan degree which starts from 1st then goes up by increasing numbers till 10th at the highest. By the way I sometimes heard that there are Budo "masters" who has higher than 10th Dan in Europe.  I never ever can understand how and from whom a person could get such strange title as 12th Dan or even 15th Dan. It could and should not happen for true Budo, indeed.
1st Dan -> 2nd -> 3rd -> 4th -> 5th ————————— → 10th Dan as the final destination
Here I try to figure out the progress with the knowledge one could have earned at the each steps. I divide the knowledge in two categories as
1.Received from teachers
2.Earned by teaching the others
The level of the person in each steps (Dan degree) should be decided by the sum of piled up these two knowledge.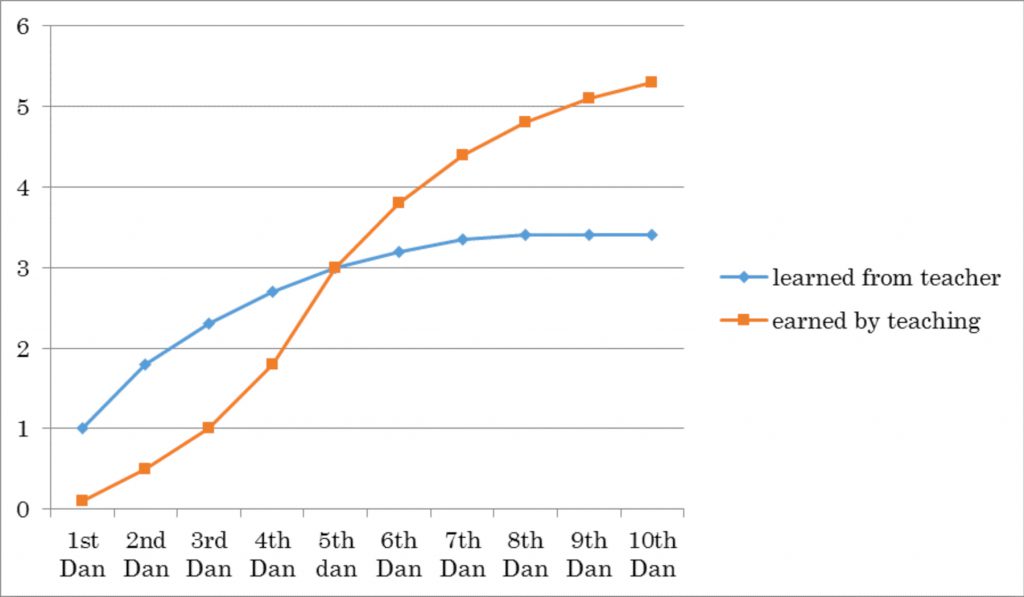 Graph-1
 

Knowledge level by Dan

Here 1st Dan is regarded that a person has reached the level just as the starting line to master the system. It is often misunderstood out of Japan that 1st Dan could be a "goal" and many students resign when they reached 1st Dan.  According what I saw in Europe, it takes too long years to reach 1st Dan, such as several years at least.  That could be based in this wrong understanding. There should not be such much to teach until the 1st Dan level. In Japan, it takes, in general, 2-4 years for Judo and Karate and 1-2 years for Jujutsu.

If I hear it takes several years to reach 1st Dan in Jujitsu, I get a strong doubt what the instructor can teach his/her students for such long years just to reach 1st Dan.  I can guess several reasons that it takes so and too long years to give 1st Dan by most of Jujitsu schools out of Japan.

1)The teachers themselves have not so much knowledge to teach their students, they let their students practise simple repeating exercise instead of teaching them knowledge.
2)Although they have certain knowledge but they worry to make their competitors by teaching their students seriously.

The case 1) is out of discussion although this is the major one.  But for the case 2), those teachers do not understand one very important fact that a teacher can grow by teaching their students.  Only if they teach their students seriously they can grow higher level.  Because by teaching the others a teacher can understand the technique deeper and wider. What they can learn from their teacher is a part of the whole knowledge.

If one reaches 5th Dan which is officially acknowledged as a teacher with enough knowledge and level, his knowledge consists of 50% what he has learned from his teacher and the rest 50% he has learned from his teaching experience.  Then later most of the new knowledge he earns by teaching experience.  So, in this way 1st Dan is just beginning. A person learned something from his teacher and he has to start growing not only by being taught but also by teaching others.

When a person reaches 3rd Dan, he is recognised that he has mastered something and can start opening own school and formally they are called as Sensei.  But this is like provisional license to teach.  When a person reaches 5th Dan with Shihan title, he/she is formally recognised to have mastered all the techniques of the system and can formally teach own students including examination right, although the certificate still should be issued by an authorised person in the Ryuha (system).  Because the Shihan degree or title should be given, in general, to a respectable person in the way of life with enough experience and wisdom,  it should be given for not quite young person under age of 40.  Normally the title is for the person aged over around 50.

Higher than 5th Dan degree are given according to the person's achievement, contribution to the system, Budo society etc.   Although his physical strength decreases by his age which means a person's physical strength meats the peak when he reaches 4 or 5th Dan and it start decreasing each year, his understanding onto the system becomes deeper and deeper.  It means he can keep growing as an instructor till the end of his life.  It also depends upon the characteristics of the system when one's physical strength meats its peak.  In case of Judo and Karate it should happen in the earlier age as before 40. On the contrary for Jujutsu it could be 50.  And in case of Aiki Jutsu one can prolong the peak even to 70 because it requires much more knowledge than physical power.

Also this is the stage for somebody who intends to establish his own style because he has mastered all the techniques of the system and based on what he has mastered he can think over to establish his own style.  What I found quite strange in Europe is many persons who have just got 1st Dan they already start thinking to start his own style.  It is non-sense but actually many people had established their own "styles" like that way in Europe in the field of Karate and Jujutsu without having any new and original concepts nor techniques.
Higher Dani given as a present/award without proper achievement
As described before, higher Dan over 5th could be acknowledged according to such achievement in a Ryuha, Budo society as how many students he grew and schools he established etc. During my 30 years' experience in Europe I have met Jujutsu "masters" with higher Dan degree such as 5th Dan or higher.  And it was and still is my big surprise and disappointment that most of such "masters" have no equivalent level to their titles at all.  When 8-9 years had past since I had started my Jujutsu teaching activity in the Netherlands, I suddenly received a diploma of 7th Dan Aiki Jujitsu from one Aiki Jujitsu federation in Germany.  The diploma was printed in a cheap A3 paper with both English and strange Japanese words such as 免許階段(certificate of stars(Kaidan)) instead of 免許皆伝(certificate of Kaidn(whole system is transferred)).  I guessed the representative person, named himself as "Soke" of his Aiki Jujutsu and claimed that many Jujitsu organizations in the world join his federation, simply wanted to invite me, a Japanese Jujutsu-ka, as a "decoration" of his federation because there was no Japanese master in his federation.
During the last 10 years of my stay in the Netherlands, I sometimes received requests to learn Jujutsu from me from not only Europe but from Afrika, north and south Amerika, say total around ten times. At first I accepted their requests and taught them seriously. But I could not feel their seriousness at all, and always they started asking me when they could receive 5th or higher Dan from me.
The funniest letter I received from Morocco. The person who introduced himself as a representative of "Jujitsu" federation of Morocco, had learned Jujutsu from Japanese master and received 7th Dan. He wanted learn Jujutsu from me and wrote his letter as below.
Dear Kurabe
From Hassan-sensei
I could not help laughing with reading his letter. Just reading this letter we can notice it is a lie that he learned Jujutsu so much from a Japanese sensei.
After those experience I made it a rule for myself not to accept students out from Japan who already holds higher Dan degree from non-Japanese organization.
Different version of Dani
Although they are minor but there are several Ryuha (styles) which they apply the other naming than Dani.  For example Renshi 練士、Kyoshi教士 and Hanshi範士 with several subversions like Jun Hanshi, Sei Hanshi  etc.  We can recognize those different naming by associating them to normal Dani. Renshi could be equivalent to 1-3rd Dan、Kyoshi 4-6 Dan and Hanshi for upper than 7th Dan for instance.  But it is totally up to the Ryuha.
---

Makoto KURABE – SHISEIDO
representative of
AIKI JUJUTSU GYAKUTE-DO
website: www.gyakutedo.org/wp

Text by Kurabe Makoto Shiseido
Born in 1950. When he was in his 30s, he began learning Gyakute-do Jujutsu, which was derived from Hakkoryu Jujutsu in the 1970s. Just before reaching the age of 40, he moved from Japan to The Netherlands and continued to master and develop Gyakute-do. In October of 2013, after adding the system of Aiki-Jutsu that he developed himself, he transformed Gyakute-do into Aiki-Jujutsu Gyakute-do, and became 2nd Soushi, grand master, of Gyakute-do. After retirement, he left The Netherlands and began promoting Aiki-Jujutsu Gyakute-do both in Japan and in Poland  as his main pursuit. He is also teaching his Gyakute-do to Budo fan in the world via corresponding  course.
---
武道エッセイ第13回 武道で共通する段位制度とは
(※日本語版で翻訳版ではないので英語版との多少の違いが有る事をご了承ください)
武道を習得する上で重要な指針となる段位制度
日本の格闘技、これを武道あるいは武術と称しますが、それが世界中で多くの人たちを魅了したのには幾つかの理由が挙げられます。多くの人たちが上げる理由としては、 武道が単なる格闘技術を習得するものではなく精神修養になる,更には人間性を高める効果が武道にはあることを指摘します。それは勿論そのとおりですが、私はもう一つ重要な理由、武道が共通に持っている特質、段位制度を挙げたいと思います。
この段位制度があるために、修行する本人だけでなく他の人でもその人が持つ段位を聞くだけでその人のレベルをほぼ的確に知ることが出来ます。また段位制度では全ての段階で何をどう習得しなければならないかを明確に示されているため、修行する人は次のレベルだけではなくずっと上のレベルに至るまで、どうしたら上達していけるか、自分にはどれくらいの努力、年月を必要とするかと云うことまでを明確に把握する(見積もる)ことが出来ます。世界中には沢山の格闘技が有りますが、段位制度を有する日本の武道ほどその上達過程を修行者に分かりやすく示しているものは無いと考えます。
段位制度の仕組み
段位制度ですが級(初心者レベル)と段(上級者レベル)の2つに大別され、級はたいていの場合7級から始まって1級まで上がって行きます。
7th Kyu -> 6th -> 5th -> 4th -> 3rd -> 2nd -> 1st
 

Kyu ———– → 1st Dan

この級で示されるレベルと云うのはまだ技をきちんとはマスター出来ていない初心者レベルで、7級と云うのは修行を始めたばかりの入門者、1級は初心者レベルを終えて上級者レベルに入れる直前の段階となります。

この級レベルを修了するのにどれくらいの年月が必要かは修行する本人の努力と資質、そして武道の性質によるので一律には決まりません。がしかしごく一般的な話として、例えば柔道や空手のように決められた動きを素早く行う必要が有る武道では、毎日何百回と同じ基礎的な動きの練習を積み重ねることが必須となり、修了にはより長い期間、大体2-4年が必要となります。一方、柔術のように動きの速さよりも習得するノウハウの量が重要となる武道では修了期間を圧縮できます。たいていの場合まじめに練習すれば1-2年で十分でしょう。

では次に段位について説明しましょう。段位は初段から始まって数字を増やして行き、最後は10段で終わりです。ところで欧州で活動を行っていた際に現地人の自称"宗家"を名乗る人たちが12段や更には15段を名乗っているのにしばしば遭遇しましたが、そんなバーゲン段位には当然根拠が無くインチキでしか有りません。
1st Dan -> 2nd -> 3rd -> 4th -> 5th ->6th->7th -> 8th ->9th -> 10th Dan as the final destination
人が上達するために習得した知識・経験には、日本以外ではこれを知らない人が多いので驚かされますが、
1.先生から習うもの
2.弟子を教えることによって自ら会得するもの
の2種類が有ります。段位の各段階でそれまでに蓄積した其の2つの知識'・経験の割合がどう変化するかを以下の図で表してみます。

図1 段位によるそれまで蓄積された知識・経験の比率
ここで初段というのは上級コースの入り口に立ったということで、日本以外ではそれがしばしば誤解されています。つまり彼らは初段を認可されて黒帯を締めるということが、かなりのレベルで技を習得できた"目標点"と受け止め、初段になった段階で止めてしまう人が続出します。
私が30年近く活動した欧州では、そのような間違った理解の下に柔術で初段認可されるまで少なくとも数年が掛かるのが普通となっています。日本では柔道や空手で2-4年、柔術では1-2年が普通です。柔術の場合に普通にまじめに取り組んでいて初段を認可されるのに数年も掛かるということを耳にすれば、私は其の指導者達がそのような長い期間で一体何を弟子達に教えているのか疑問に思います。
彼らが黒帯認可までに長い時間を掛ける理由として
1.指導者自身に十分な知識が無いため、弟子達に単調な運動の繰り返しをさせてスピードをつける訓練を主体に指導している。欧州では大半の道場で見られる傾向ですが、そんなものは柔術では有りません。
2.指導者達はソコソコの知識を有しているが、弟子達が早く上達してしまうと教えられることが無くなってしまうのを恐れるために、教える量を少なく小出しにして指導期間を長く、つまり月謝を長く即ち多くもらえるようにしているのです。これも欧州の多くの道場で見られる状態ですが、こうした指導を行っている人たちは教えることで自分が上達できるという大切なことがわかっていないのです。
指導者が5段つまり師範レベルに達したとき、彼の持つ知識の半分は自分の指導者から教わったもので、残りの半分が自分の弟子を教えることで得た知識となります。改めて繰り返しますが初段と云うのはほとんど全ての知識が先生から教わったもの、そしてそれ以降はただ教わるだけでなく後輩を指導することでも知識を増やしていかなければ真の上達は図れません。
一般的に修行者が3段に達した時点で、ある程度満足のいく技術・知識を身につけたと看做され自分の道場を開き始め、先生と呼ばれるようになります。しかしこれはあくまでも指導者見習いとでも云うべきで、5段、師範位を得た段階で其の流派全般の技と知識を習得して正式な指導者として認められ、段位認定証は上部団体から発行されるものの自身で昇段試験などを実施できる権利を得ます。5段、師範位は単に技量だけでなく人間的な完成度も求められ弟子達からの尊敬を得られるということが必須要件となるために、通常は40歳未満で得ることは出来ません。大体50歳以上となった人に送られるのが普通です。
6段以上ですが、これは技術レベルの向上と云うよりも属する組織や団体に対するその人の貢献度に応じて与えられるのが一般的となります。物理的な強さや動きの速さは3-5段くらいでピークを迎え、其の後は徐々に衰えて行きますが、技そのものに対する理解は経験が増すごとに益々深くなっていきます。柔道や空手では物理的なピークを迎える年齢は40歳前に訪れ、速さや物理的に強靭な筋肉に余り強く依存しない柔術では50歳くらいでピークを迎えます。更に物理的な筋力に頼る度合いが小さくなる合気術ではピークを迎える年齢を70歳まで伸ばすことも可能となります。
そうしてその技量のピークを迎える時期と云うのが、全ての技を習得して次に自分独自のスタイルを確立しようと思えば出来る時期となります。欧州で経験した不可思議なことは、例えば初段を取ったら直ちに自分のスタイルを打ち立てたいと考え始める人が本当に多いという事実です。それは空手でも同じであり、自身の技量は漸く上級者の仲間入りを果たした程度のレベルでしかなく、技への理解度も十分ではない段階で自分の命名する独自の流派を起こそうなどと考えるのはナンセンスとしか言い様が有りません。
バーゲンされる高段位認可
既に述べたように6段以上は、既に実力で5段位まで到達した人が、その後どれだけ多くの弟子を育てたか、幾多の道場を設立して其の流派の普及発展に努めたかの様にその属する団体や組織への貢献度に応じて認可されるのが普通です。私の30年にわたる欧州での柔術普及活動中で、5段以上を日本以外の現地の団体から認可された沢山の"柔術マスター"達と出会いました。そして驚いたことにまた非常に残念なことに、彼らが有する高段位に相応しい力量を備えた人はごく一部の例外を除いてほとんどいませんでした。
日本からオランダへ移住して柔術の指導活動を始めて7,8年が過ぎた頃、ドイツにある或る合気柔術団体から"合気柔術七段"の段位が送られてきました。安っぽいぺらぺらのA3用紙に英語と怪しげな日本語の表記で其の段位認定証が印刷されて、判子までべたべたと押してありました。その判子の一つは"免許皆伝"ならぬ"免許階段"と記されているのには思わず苦笑いしてしまいました。そういえば最近フェースブックで見た、日本人らしき人が米国で主催する忍術道場が発光した印可状には"師範"ではなく"師藩"と筆書きされているのを見つけました。其の道場を主催して"忍術宗家"を名乗る日本人と云うのは師範と云う漢字を正しく書けない程度の人なのでしょう。
話を元に戻しますが、"宗家"を名乗る其のドイツの団体の責任者は私と云う日本人の柔術指導者を傘下に加えることでデコレーションにしたかったのでしょう。そのための餌が彼の発行する七段位の認可証だったのです。彼の主催する団体には欧州各地から5段以上の柔術指導者が沢山登録されていましたが、それらも同じようにバーゲンで発行されたものに違いありません。
欧州で柔術を教えていた30年間の最後の10年間では、欧州を初めアフリカ、米国そして南米の柔術指導者達から是非柔術を指導して欲しいという申し出をしばしば、計10回以上受けました。初めの内は真剣に指導し始めるのですが、皆一様にまじめに練習する気などさらさら無く、教え始めると直ぐに"いつになったら段位を認可してくれるの、5段以上できるだけ高い段位が欲しいのだけれども"と決まって同じようなことを尋ねて来ました。モロッコの柔術連盟のトップをしていて日本人から教わった柔術で7段を名乗っている人から来た手紙は中でも傑作でした
私の事をDear Kurabeと敬称無しで呼び、最後には from Hassan-sensei と自分の名前にはちゃんと先生と書いて締めくくっていて、それが人に柔術を教えて欲しいという依頼の手紙なのです。彼が日本人から教わって7段まで行ったというのはこのことだけでも嘘だと分かります。ともあれそのようなことが重なったので、私はどのような場合でも日本以外の団体から段位、特に高段位を得た人にはどんなに懇願されても絶対に自分の弟子には取らないと決めた次第です
段位のバリエーション
少数では有りますが幾つかの流派や団体では段位ではない他の名称を使うところも有ります。よく使われる名称は練士、教士、範士、あるいは準や正を付して準練士、正範士などの名称が使われます。対応する段位はそれぞれの流派・団体によって異なりますが練士が1-3段、教士が4-6段、範士が7段以上でしょうか。あくまでも目安に過ぎませんので参考程度に聞き流してください。
---
合気柔術 逆手道
第二代宗師 倉部至誠堂
website: www.gyakutedo.org/wp
At the starting of AIKI Web Course
Cooperating with BAB Japan Co., Ltd., hereby I start AIKI Web Course in order to realize my long-standing desire to let as many as martial arts fans all over the world have the correct knowledge of AIKI and learn how to practice AIKI.

This course consists of
Part 1 as introductory articles, I explain a wide range of knowledge about what AIKI is, which contains 6 lessons.
Part 2 as main articles, for beginners/intermediate level, I explain how to practice AIKI to master. It contains 24 lessons.

The each lessons will be uploaded on BudoJapan website one by one every week.
I hope as many people as possible will be interested in AIKI and become able to practice it by following this course.

AIKI Web Course 25 Lessons