Distribution Schedule
All 24 lessons set

(Total duration: About 70 min) :

$50
Streaming Now!


Introduction (05:42) $3 → Free!


Introduction video is now available for free!
» Article & Video
Streaming Now!


Lesson 1 & Lesson 2

Lesson 1
Waving Method $3 » Article
Lesson 2
Application of Waving Method (03:23) $3 » Article
Streaming Now!


Lesson 3 & Lesson 4

Lesson 3
Undetectable Force Transfer Method $3 » Article
Lesson 4
Application of Nondetectable Force Transfer Method (03:24) $3 » Article
Streaming Now!


Lesson 5 & Lesson 6

Lesson 5
AIKI Connection Method $3 » Article
Lesson 6
Application of AIKI Connection Method $3 » Article
Streaming Now!


Lesson 7 & Lesson 8

Lesson 7
Targeted Force Transfer Method $3 » Article
Lesson 8
Application of Targeted Force Transfer Method $3 » Article
Streaming Now!


Lesson 9 & Lesson 10

Lesson 9
Force Equilibrium Method $3 » Article
Lesson 10
Application of Force Equilibrium Method $3 » Article
Streaming Now!


Lesson 11 & Lesson 12

Lesson 11
Gyaku-te technique realized by the AIKI of Nondetectable Force Transfer Method $3 » Article
Lesson 12
A Gyaku-te technique performed by not using force nor AIKI $3 » Article
Streaming Now!


Lesson 13 & Lesson 14

Lesson 13
Advanced techniques using Waving Method ① $3 » Article
Lesson 14
Advanced techniques using Waving Method ② $3 » Article
Streaming Now!


Lesson 15 & Lesson 16

Lesson 15
Advanced techniques using Undetectable Force Transfer Method ① $3 » Article
Lesson 16
Advanced techniques using Undetectable Force Transfer Method ② $3 » Article
Streaming Now!


Lesson 17 & Lesson 18

Lesson 17
Advanced techniques using AIKI Contact Method ① $3 » Article
Lesson 18
Advanced techniques using AIKI Contact Method ② $3 » Article
Streaming Now!


Lesson 19 & Lesson 20

Lesson 19
Advanced techniques using Targeted Force Transfer Method ① $3 » Article
Lesson 20
Advanced techniques using Targeted Force Transfer Method ② $3 » Article
Streaming Now!


Lesson 21 & Lesson 22

Lesson 21
Advanced techniques using Force Equilibrium Method ① $3 » Article
Lesson 22
Advanced techniques using Force Equilibrium Method ② $3 » Article
Streaming Now!


Lesson 23 & Lesson 24

Lesson 23
AIKI Techniques with combination of different Method ① $3 » Article
Lesson 24
AIKI Techniques with combination of different Method ② $3 » Article

< Cooperators >
As Tori (Defender) : Takehisa OKABE
As Uke (Attacker) : Kaneyoshi UDAGAWA, Hideaki IWASAKI, Hidenori SATO, Takuji KAWAI, Shigeo SEINO, Hiromasa HAYASHI, Kentaro SUGAO

Purchase AIKI Web Course
Instructed/Supervised by KURABE Shiseido (AIKI Researcher)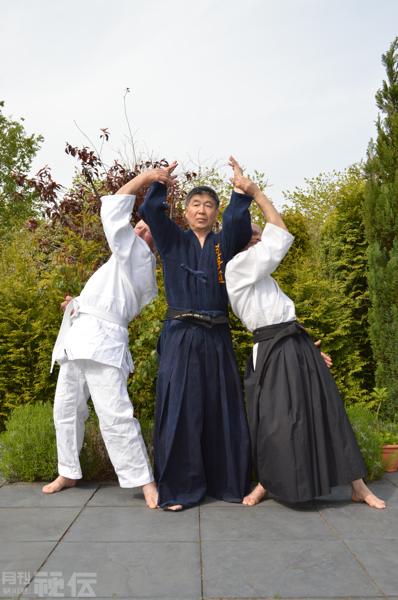 2nd Soushi (Grand master) of AIKI Jujutsu Gyakute-do
He was born in 1950 in Kashiwa city Chiba prefecture. Graduated PHD course of Science University of Tokyo. After learning Judo and Shito-ryu Karate-do, started learning Gyakute-do Jujutsu which was created under influence of Hakko-ryu Jujutsu and the other Ko Bujutsu. Since TANAKA Tadashi CHUSHUDO, founder of Gyakute-do, 1st Soushi, passed away and the Ryuha died out without a successor, he had started instructing Gyakute-do seriously to the local Budo fans in the Netherlands so that he can let the name Gyakute-do would not disappear. Besides, during pursuing Gyakute-do, he had discovered the theory of AIKI and had established the methods to realize AIKI and the practicing way in his original way successfully.
Time to time he often writes for the Japanese martial arts journal "Hiden". So far he has published books "Theory of Vibration Modal Analysis", "Story of Dutch", "Fast learning AIKI", etc., DVDs "How to master AIKI" etc.