» At the starting of AIKI Web Course
【AIKI Web Course Part 2】
Lesson 16 Advanced tech. by Undetectable F.T. #2
This time, following the last lesson, I will explain the applied technique of the Undetectable Force Transfer method.
Ryote Mochi Kote Fudo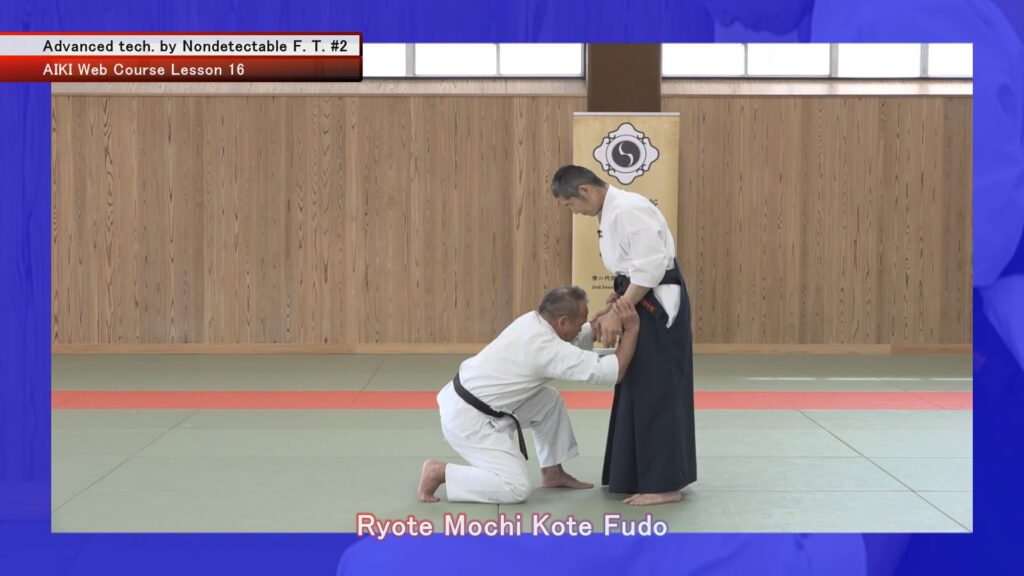 A and B stand by face to face.
A…Defender
B…Attacker
a・A raises both arms straight up with open hands.
b・B grasps A's both wrists with both hands.
c・A does not put force to the grasped wrists, and drops both arms loosely downward.
d・A feels strong resistance of B on the way to drop. However, without being conscious of applying force to the wrists, A keeps lowering both arms further down.
e・As B's grasping hands are lowered, B's wrists become locked, and eventually his body sinks and becomes immobile.
Important point…Never put force to the grasped wrists till the end
It is important for this technique that you keep downing both arms without putting force to the wrists till the end.
It's relatively easy to lower both arms till around chest's height, but if you go down to that height, the opponent's hand will start to get locked and blocks your arms' movement.
1
Strengthen your consciousness
Some people may be able to do it with one hand, but they may not be able to do it with both hands.That's because his consciousness was caught in the situation that "both arms were grasped", and he couldn't switch to the consciousness of moving without applying force.
However, since it is a problem based on the way you create your consciousness, you can improve it by changing it.
First, let's try Synchronization as usual approach.
In this case, both arms are being grasped, so move both arms up and down imaginatively, and move both arms smoothly in sync with the imaginary movement.
2
Devise one's own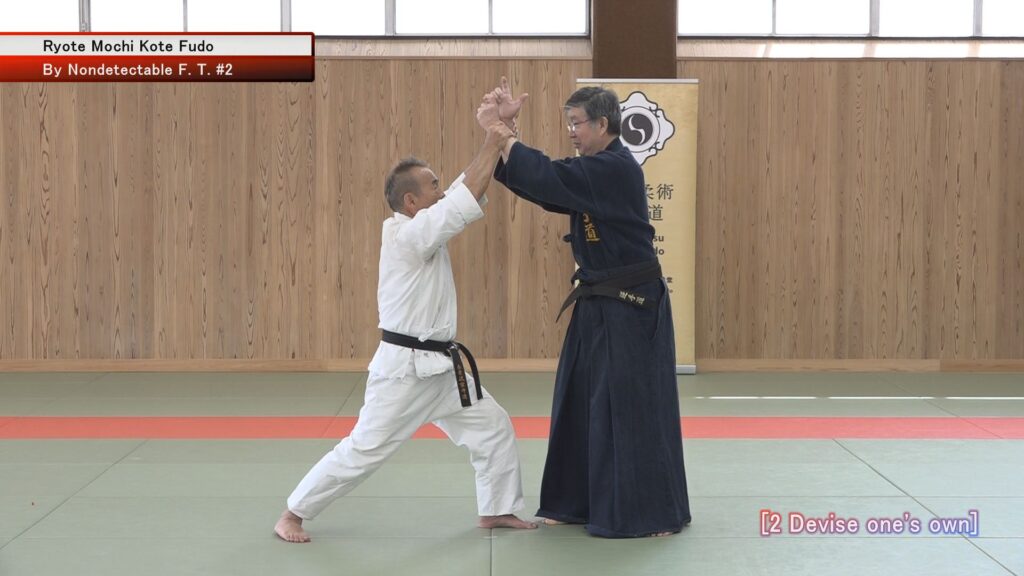 It is important to remove your consciousness from both grasped wrists in order not to apply force to the grasped wrists. To do so, it is also effective to draw your own image.
For example, the image of lowering the grasping sword is one of the good ways.
Also, one of my students who was playing basketball went well with the image of lowering the ball he was holding.
The Undetectable Force Transfer is a method of creating intense consciousness and moving the grasped arms as if it were not grasped.
Therefore, the way of creating that consciousness should be done in the way that each person is most familiar with.
The world's first epoch-making AIKI course!
Learn AIKI by a Combination of
Videos and Articles!!
» Instructed / Supervised by KURABE Shiseido