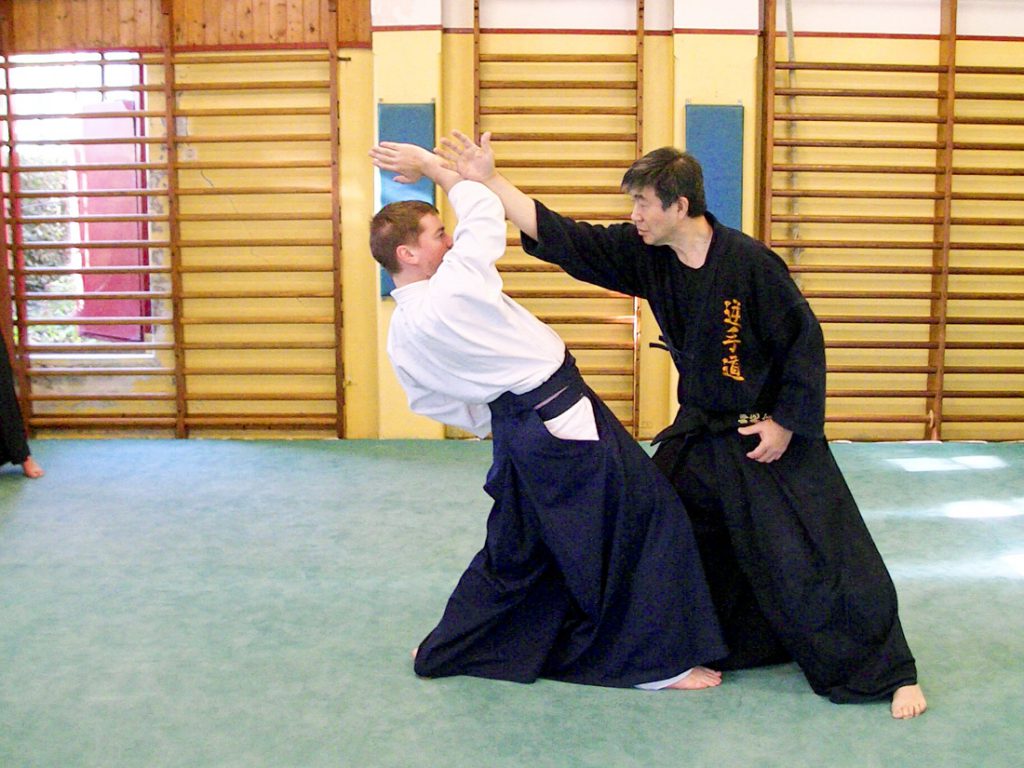 Those two are somehow similar but are definitely different in the way how the result should be, as confidence is essentially required to win, on the contrary arrogance leads to loose. In the other words, confidence is used to inspire oneself to ensure the victory only after all the necessary preparation have done and it is called as arrogance to became confident to win without making all the necessary preparation. Or in the other way, because of this arrogance, one ignore to make all the necessary preparation to win.
This is the difference between the two.
For the case of War between countries or fight between individuals, no matter how big the scale is, above two make the result clearly different. Referring to the war, the best examples are Japan-Russia War and the World War Second. During Japan-Russia War, Japan used confidence and Japan used arrogance for the later which caused a miserable result.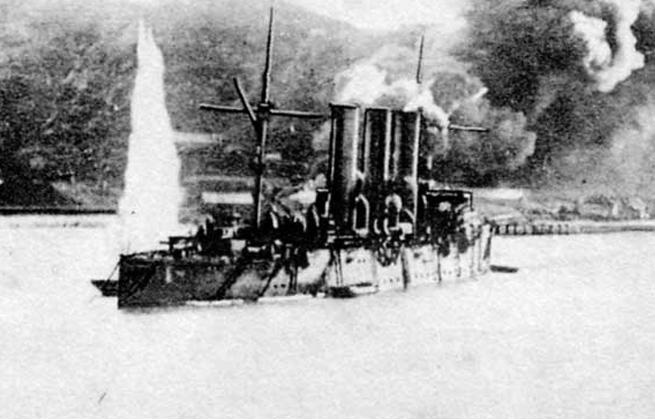 For the former case, Japan had to face the critical phase that such a small country right after started modernizing its nation had to fight against one of the most powerful big country in the world as Russia. It was like a fight of a small boy against a professional wrestler, indeed. The leaders of Japan at that time, they all knew and understood the situation quite well, made almost all the possible effort including gathering the fond in U.K., purchasing the equipment from bullets to ships from abroad, made diplomatic activity to get sympathy from the world etc.
What they aimed was not to be defeated too miserably because they never expected any small chance that Japan might win that war. And as the last thing they should have done, they used "confidence" to try to inspire the soldiers and people. During the war and till the end of the war, those leaders kept doing all tries not to be defeated even after they started winning the battles, because they properly could estimate the fundamental potential difference between Japan and Russia. They kept having a nightmare that Japan should be defeated by the end.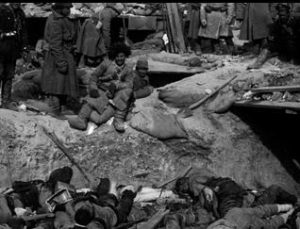 It was the World War Second that the leaders of Japan behaved completely differently. Considering the scale of economy which is the most important key factor to carry on the war, Japan at that time is just so big as to fight against China only. Even it was too much and there was no clear prospect to win that war. In spite of this fact, those leaders believed that they could win against U.S.A. and U.K. with a strong "confidence", they called their arrogance so as "confidence".
Because they believed that Japan could surely win with their supreme fighting spirits, they did not make even basically necessary efforts to win the war especially in ground force. They did not make precise logistics plan which normal people think essential to carry on the war. They put divisions unit of their army so easily onto the stupidly planned projects and lost several ten thousands soldiers for nothing in once. They never learned from their loss and had repeated their stupid mistakes from the beginning till the end in an exactly same way. They thought they can get soldiers for 10 cents per person so easily.  This ten cents means a post card which demands a person to join the military. So, they did not think about consumption of the power force. Such leaders started that hopeless war and killed several millions people all over in Asia till it ended miserably for Japan.
At the end of the stage of the war, they asked Soviet Union which already had decided to start fight against Japan according to the YARUTA POTSUDAM agreement, which is a breach of the peace agreement between Japan and Soviet Union bounded before World War Second and still valid at that time, to arrange the ending war settlement to U.S.A. What stupid people we had as leaders of Japan at that period. They could not or even did not try to see and guess what is happening around.
We still have this same situation even now. The leaders of Japan after the war, they repeatedly carried out the huge financial support to Soviet Union, now Russia, to develop Siberia with expectation they would return Japan's northern islands which were occupied by Soviet Union after the war. Every time when Soviet Union needs big investment they promised Japan to return those islands someday but it never came true and surely will not come true in the future.
All the European politics or even normal citizens, they know what Soviet Union or Russia is. They expanded their territory by invading the other nations' land by force and it is their fundamental nation's policy to expand their territory by force and never return such treasure which they gained by paying their blood. Except leaders in Japan, there exist no such stupid leaders in the world who believe that Russia will return their occupied territory in peaceful way.
Coming back to the original topic, considering those two war cases, the point is how correctly the leaders of Japan could estimate oneself and the others strength and potential.
For Bujutsu in old day but not in the later days when people do not have to worry about death which occurs as the result of losing fight/match, it was really essential point to estimate one's own strength at each moment to survive from the battle. It was also quite important to survive to estimate the other's strength correctly and as quickly as possible considering the case one has to be involved the fight immediately to meet the unfamiliar guy.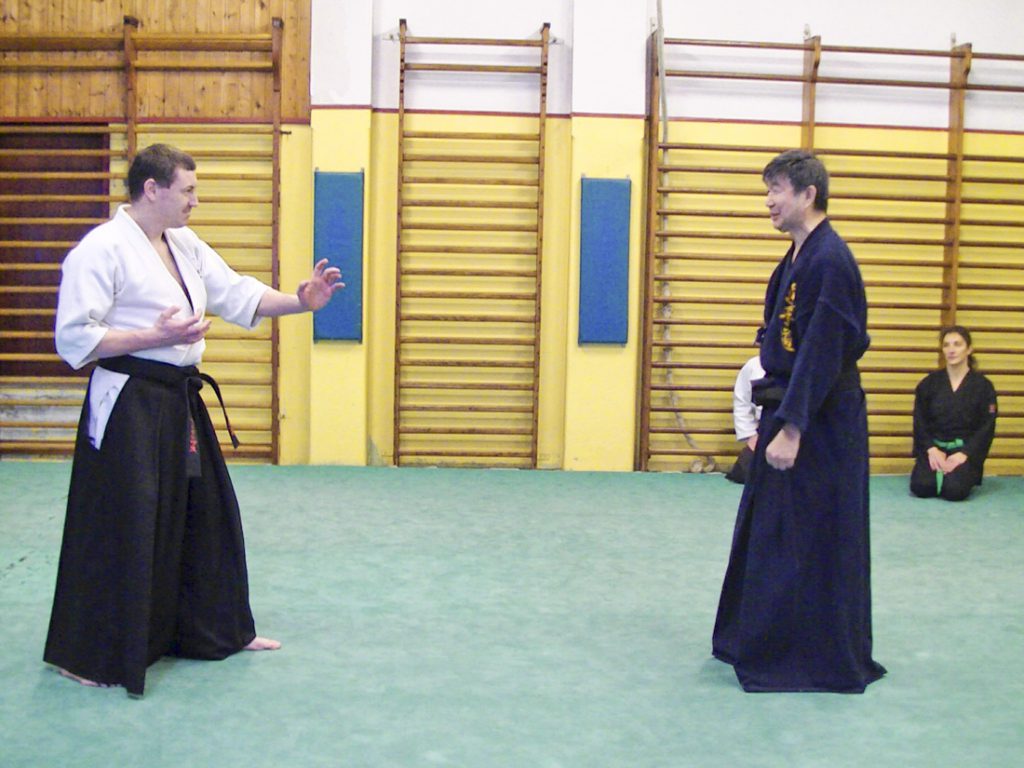 For such purpose, Bujutsu-ka always tries to estimate the other's skill level even from a small attitude which he shows unconsciously, like simple stepping and turning or just from the way he speaks. They spent huge effort to brush up this ability same as fighting technique training.
In case they found the opponent is stronger than him, they tried to avoid the fight with all means. If they can't escape from the battle, they still tried every means not to loose, whatever methods including not fairy one. At that period they did not have the fairness in their mind. The concept of fairness started after when they did not have to worry about death which occurs as result of losing match. They never fight without confidence and that is the difference between Bujutsu and sports.
If a person thinks
"I will fight with all my power and I will leave the result to God's hand."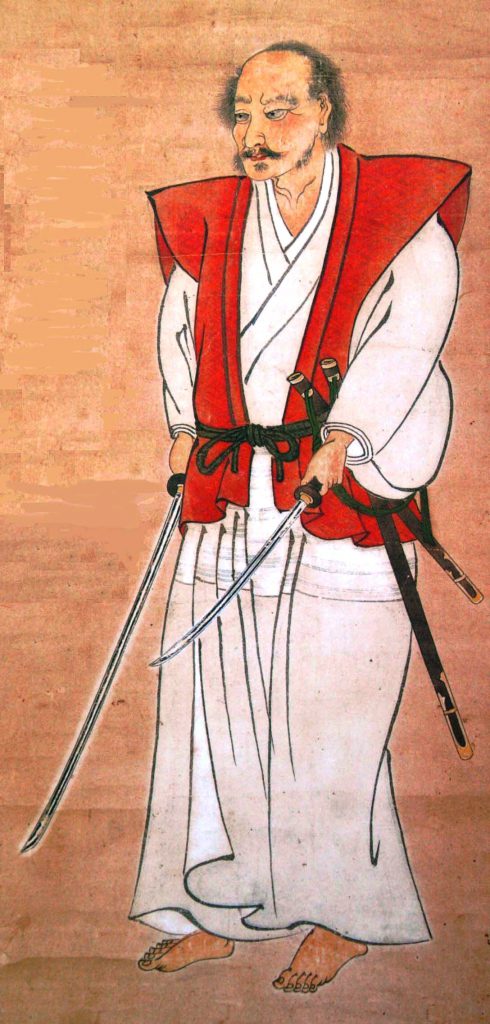 He is no more a Bujutsu-ka but just a sport man. For Bujutsu-ka, to win the fight is only one thing he should consider and he should try all the means before and till the end of the battle. That is Bujutsu. They never give away the result to the others including God. The famous Samurai called MIYAMOTO Musashi said " I respect God but I never rely upon him."
There are some interesting examples to explain how important this attitude is to estimate others level as not only as a Bujutsu-ka but also in a normal daily life. One example, which I encountered 5 years ago.
I happened to know one Karate teacher via internet with age of middle of forty and quite active to teach his students by his own developed unique method. I watched his website and was quite impressed in his teaching way. I can say it is an innovation. Many of his teaching are totally different than ordinal and traditional way from gripping and hitting/kicking. I had been also busy for several years to develop my own Aiki Jutsu teaching way to aim more people can realize Aiki Jutsu, and I thought we have the same intention. So, I wrote my impression frankly to him and sent my big compliment to his sincere teaching way.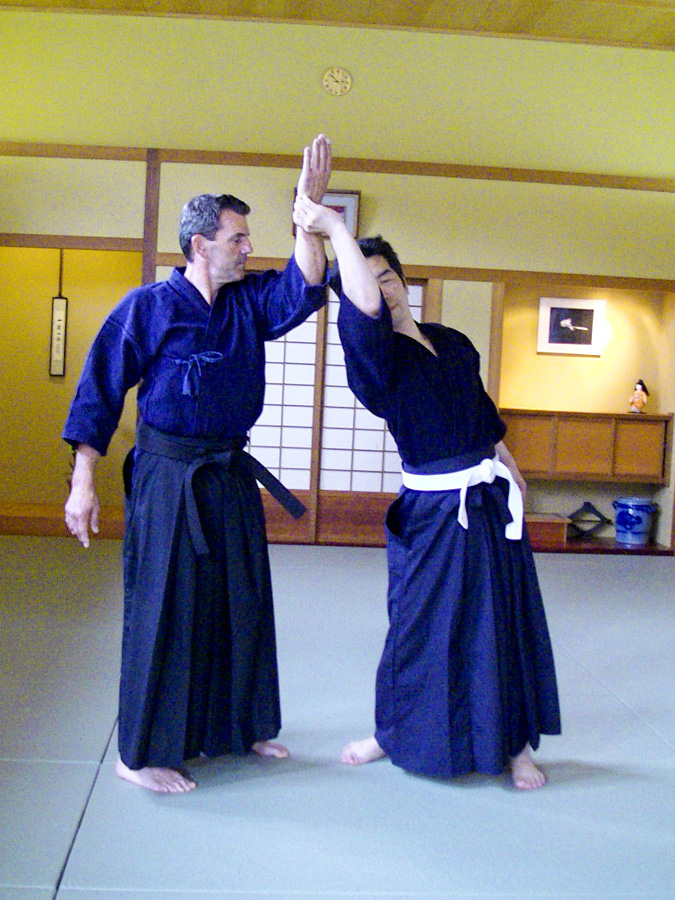 So we started our corresponding. After 1-2 months, when I wrote an article to introduce my teaching way to HIDEN journal, he wrote to me his impression which surprised me a lot. By publishing that article I expected to receive some strong criticism from existing Aiki Jutsu teachers who do not seriously teach their students on purpose or simple they do not have enough Know-How. But that criticism I received from this Karate teacher first. He never had seen my performance nor even did not watch my website and he wrote I am too arrogant to claim that I discovered innovational teaching way. If he saw my performance and made such criticism, I surely took it seriously. But even not knowing what Aiki Jutsu is and criticized that to put spirits into technique he himself normally does, so it is nothing new what I wrote, he wrote so. He did not try to consider what Aiki Jutsu is and how the spirits is used. It should be total new world for him and how he can criticize against what he does not know at all. I could not find the modesty with him which he shows a lot in his writing, which I found very strange. He surely does not have the important intention as Bujutsu-ka to try to estimate the others level with all the possible evidence and material. His behavior was exactly same as the leaders of Japan during World War Second. In spite the way he writes, he was an arrogant guy who considers he is the only one person who developed innovational teaching method. So, I wrote him to thank his comments and stopped further correspondence.
On the contrary I have another experience. It happened when I started working for JVC as a development engineer in TV research institute. I was assigned to work in a special project team where they were developing next generation VCR. My boss was managing mechanics group as a chief engineer. At that time I was too much confident with my level as an engineer who finished PHD course and had worked for Mitsubishi Motors Inc. as a development engineer. And accordingly I could not think how I should and could contribute the group but I intended how I could use my knowledge effectively in the group which was totally wrong. The boss had very sharp brain and had a lot of experience so he surely had noticed my not enough level as an engineer but had too high pride. Because he did not graduate university and he was so careful to scold me because he was suspicious how really high my level was as a person who finished PHD. He had checked me for whole 2 months and after he finally convinced that my level was not such high, he scolded me so hardly with full confident.
It has past 37 years since it happened and now he is the only man whom I can call my boss and we keep close contact.
I can introduce the other examples which I experienced in the Netherlands.
When it was finally decided that I could move to the Netherlands from Japan, I went to the big book shops in Tokyo and bought all the books related to the Netherlands. It was the first thing I did right after to make myself well prepared to move in the different culture. But after all I found it was far much not enough to prepare the unexpected happenings which occurred one after another. Those unexpected happenings bothered and worried me a lot and I had become totally exhausted. But if I had not read those books in fore hand my experience had become much more miserable, I am sure.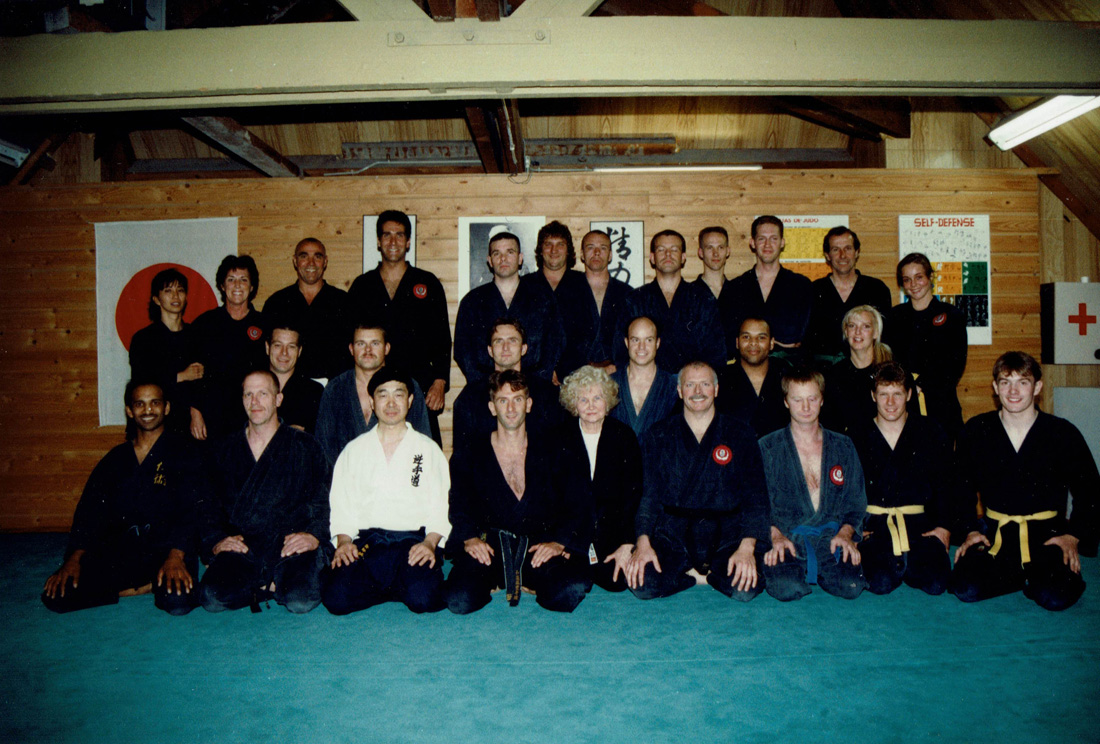 At that time, end of 1980s, almost all the Japanese who seconded to the Netherlands were same. We often talked each other to share the experiences which we thought necessary to avoid unexpected risks and we heard we all had read the same books. But recently, say for these 15 years, I can't find such serious guy among the Japanese who seconded to the Netherlands. It does not matter how high their status are, manager or presidents, they are all so confident not to make any mistake and can succeed in that foreign country without any problem. They do not expect any problem at all and they are even so stupid to tell the others that they have not make any preparation at all very proudly. It must be that they all are so confident with their ability nor they simply lack of the mind to prepare. But one thing is sure that once they encounter their unexpected difficulty, they all collapse in once.   
 Once I heard about one company which was established by such Japanese in the Netherlands. Without knowing anything about Dutch labor laws and customs they started hiring people by unlimited period contract, which never happens in the Netherlands. They always hire a person with limited period contract to watch carefully what the person is. Besides they often hire people even two-three times continuously by limited period to make sure if the person is correct or not. Once they have bound unlimited period contract, it becomes so difficult to terminate the employment. So it is basically necessary and important to hire a person by limited period contract at first. So, this company, they soon found that the most of their employees whom they hired by non-limited period contact are not suitable to the job nor to the company at all and that it took huge effort, i.e. time and money to terminate them. Such case was surely could have been avoided if they had read Dutch related books as a preparation.   
If I was a responsible person in their company in Japan, I fire such idle and stupid guys immediately. But if I think over what happened in such famous top ranking Japanese company as Olympus, Kobe Steel and Toshiba such stupid persons could be also managing a company as the top management. It is what happening in Japan now.
When I was working as a top of a company in the Netherlands where I was seconded from Japan, I received the guests from one of the biggest heavy industry company in Japan. They planned to establish their manufacturing base in the Netherlands and wanted hear from me as a pioneer. The company which I was working at that time, had institute, plant and sales company. Although it was not big in scale but had complete functions in the Netherlands.
The person who was assigned as a top of that new establishment did not know anything about the Netherland nor looked like he had no intention to know or to study. He did not make any questions to me. Instead of him, a labour union leader who was accompanied with him made several important questions. At the end when everybody relaxed that person started talking what he "prepared".  He knew there are several nice golf courses in the Netherlands with which it is rather difficult to become a member. So he already made a connection to one famous golf club and had made an application to become a member so that he can immediately start golfing right after his dispatch.
Just in my mind I shouted to him "this stupid idiot!"
Because they are rather big organization and many of the staffs were sent to the project, he would be supported by them and could spend nice time without doing any work. The similar case I saw here in the Netherlands so many around me. If people like him becomes a top management, the end of that company's life is not so far future. I do worry about Japan in the future because politicians, high ranked officers and top managements in companies, there are so many similar idiots. I have to say with all my regret we do not have bright future in Japan if this continues.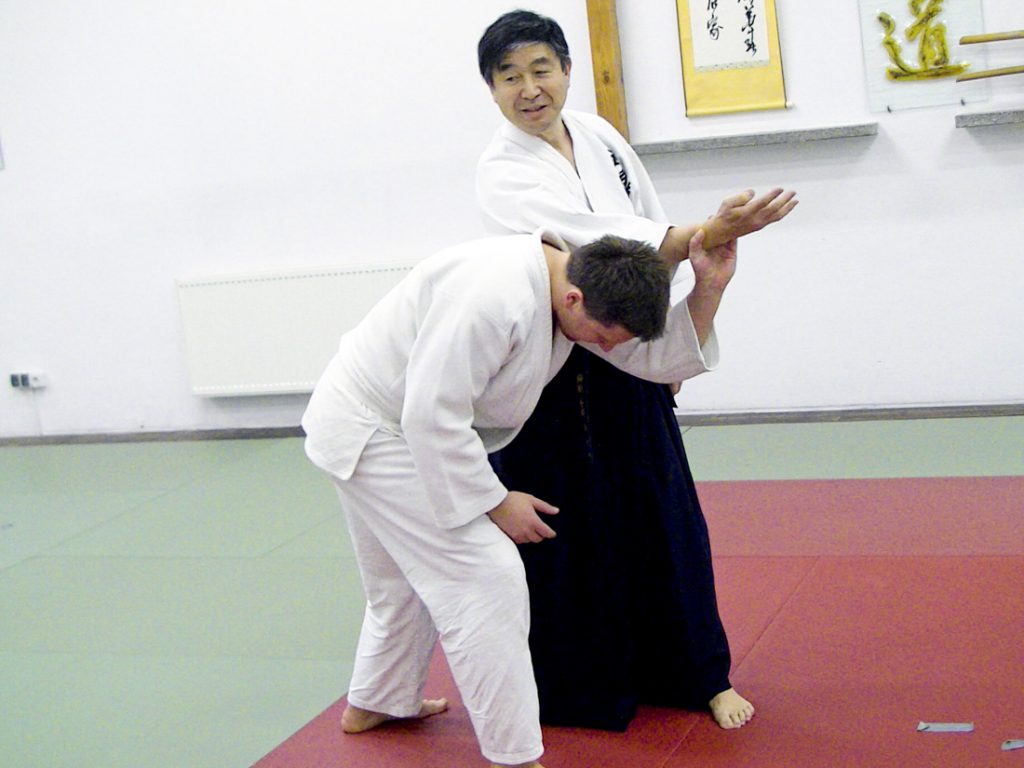 At the end of this article, I would like to express my thanks to Mr. Sean Leather, my Jujutsu student comes from U.S.A., for his big effort to have corrected my Japanese English to formal English.
---

Makoto KURABE – SHISEIDO
representative of
AIKI JUJUTSU GYAKUTE-DO
website: www.gyakutedo.org/wp
mail: apply@gyakutedo.org

Text by Kurabe Makoto Shiseido
Born in 1950. When he was in his 30s, he began learning Gyakute-do Jujutsu, which was derived from Hakkoryu Jujutsu in the 1970s. Just before reaching the age of 40, he moved from Japan to The Netherlands and continued to master and develop Gyakute-do. In October of 2013, after adding the system of Aiki-Jutsu that he developed himself, he transformed Gyakute-do into Aiki-Jujutsu Gyakute-do, and became 2nd Soushi, grand master, of Gyakute-do. After retirement, he left The Netherlands and began promoting Aiki-Jujutsu Gyakute-do both in Japan and in Poland  as his main pursuit. He is also teaching his Gyakute-do to Budo fan in the world via corresponding course.
You can read Original Japanese text here!
自信と尊大さとの違いについて
 この2つはとてもよく似ているが、決定的に違うのは自信が勝つために必須なものであるのに対して尊大さは必ず負けることに繋がるということだ。別の言い方をすれば、勝負に向けてありとあらゆる準備を尽くした上で勝負に向かう自分を鼓舞するのが自信で、すべき努力をせずに単に勝てると思い上がることが尊大さ、あるいはこの尊大さゆえにすべき努力を怠って勝負に負ける、その違いだ。
 国と国とが戦争をする場合、個人同士が勝負する場合、戦いの大きさに関係なくこの違いは明白に出る。戦争で言えば一番良い例が、日露戦争で日本が発揮したのが自信、第二次世界大戦で日本の敗因となったのがこの尊大さであった。
 日露戦争では文明開化して僅か半世紀しか経っていない新興国の日本が、世界に冠たる軍事大国ロシアを相手に国の存亡を掛けて戦わざるを得ない局面に陥った。その危うさを十二分に熟知していた当時の指導者は、「何とか手ひどく負けないように」と英知を絞って、外交はもとより、戦費調達のための国債を英国で発行、外国での戦争遂行のための機材の事前調達など、できる限りの手を打ち準備をして戦争に望み、戦争が始まった段階で「自信」を使って自分達を鼓舞した。指導者達は戦いが始まる前は勿論、勝ち戦が続いたときですら負ける恐怖を常に頭に描きながら、危険な綱渡りで綱から落ちてしまわないよう一歩また一歩と慎重に進んでいたのだ。
 それと全く反対のことをしたのが第二次世界大戦であった。当時の日本の国力からすれば中国一国を相手に戦うのが精一杯であったにも拘らず、精神論だけで英国や米国を相手にして勝てると当時の指導者達は本気で考えていたのだ。最初から勝てるつもりだから、陸海軍共同の綿密な作戦計画など立てる訳が無く、戦争では必須となる物資補給すらろくに計画されない行き当たりばったりのいい加減な指導で戦争を始め、破滅的な敗戦に至るまでずっとその愚かさに気が付かずに何百万という人を殺してしまった。
 戦争の最終段階に至っても、ヤルタ会談で既に日本へ参戦することを決めたソ連に対して、日ソ中立条約の有効性を信じて米国との和平交渉の仲介を依頼するなど、徹頭徹尾相手の意図を読めずまた読もうともしなかった愚かしい者達が主導していた当時の日本だった。だが同じ問題は今でも続いている。戦争の最終段階のドサクサでソ連に占領されてしまったわが国の北方領土であるが、これが返却されるという期待を抱きながら次から次へとソ連への経済協力を引き受けさせられ、援助額は膨大となったが戦後半世紀以上経っても占領された領土が返還される兆しすらない。しかるに官も民(新聞)も相変わらず返還される見込みがあると信じ込んでいて、ロシアから要求されるがままに経済援助という口実で搾り取られ続けている。これではまるでヤクザに脅かされて際限なく金をむしりとられているようなものだ。ソ連あるいはロシアは武力で他国を侵略しながら大きくなった国であり、其れが建国以来の国是となっている。皇帝独裁だろうが共産主義だろうがその国策はロシア帝国の誕生以来不変である。従って武力で獲得した領土は武力で負けない限り、あるいはアラスカの売却や東ドイツの売却のように自分が切羽詰って多額の金が必要となったとき以外には手放した例がない。その歴史を見ればこのようなことは一目瞭然だ。北方領土がロシアから平和裏に返されることがあるなど本気で考えているのは、広い世界中でお人よしの日本人だけだ。一体何回手痛い目に会えばそれに気が付くのだろう。
 話が少し外れたが、日露戦争とその後の戦争時での違いはどれだけ自分自身の能力と相手の能力とを客観的に掴んでいるか否か、ということにある。武術では、現代の武術ではなく勝負が生き死に直結した昔の武術では、自分の力量を常日頃正しく把握しておくことは殺されずに生き残るために絶対に欠かせない基本的なことだった。加えて相手の力量を正確に測定することも同じくらい重要なことだった。いきなり戦闘行為に入る場合もありうるので、武芸者は相手の力量をそのどのような小さな動きからでも一瞬で読み取れる技術を磨いたものである。相手が自分よりも強いと判断すれば、即逃げるか、あるいは負けない工夫をしないかぎりは決して勝負には臨まなかった。
 柳生但馬守が将軍家光の前で午前試合に望んだ際、両者が家光に向かって礼をした瞬間に刀を抜いて横に立っていた試合相手を切り殺してしまったのは、そうしなければ負けるかもしれない強い相手と但馬守が読みきったためで、卑怯ではあるが武術者としてはこれが正しい。家光もそれが分かったからこそ、勝負が始まる前に相手を倒した但馬守に対して不愉快には感じたが罰することはしなかった。
 武術がスポーツと違う点はまさに此処にある。スポーツの試合では負けても死ぬことはありえないが、武術の試合では毎回生死が掛かる。だから勝負に勝つことが全てで、そのためには"卑怯"と呼ばれようが勝つ為にはありとあらゆる術策を尽くすという心構えが無くてはならない。
「一生懸命闘って後は天命を待つ」などという奇麗事を言うようでは、すでに武術家とは言えないのだ。
 現代の世界では武術といえども生死を掛けた勝負はしないが、それでも生死が掛かっているものと考えて、スポーツとは次元が違う強い心構えが武術には要求される。そうでなければ、それは単に武術と名乗っているだけでスポーツとなんら変わりは無い。
 一言で心構えと表現したが、その心構えさえきちんとあれば成すべきことが全ておのずから明らかとなる。先にも述べたが自分の力量と同様に相手のレベルをいかに的確に、それもできる限り短い時間で見抜くことができるか、その訓練を日ごろ重ねておくこともこの心構えの一つだ。初めはじっくりと時間を掛けてあらゆるデータを集めて相手の力量を的確に見定める訓練をする。それができたら、要する時間を短く詰めていき、別の言葉で言えば限られた少ないデータで正しく相手を測れる訓練に切り替える。
 この相手のレベルを見極めることを考える良い例に過日遭遇した。1年半前から私のところに柔術を習いに来ている日本人の弟子がいて、彼が日本で空手を教わっていたという先生のことを教えてくれた。何でも私と同じようにノウハウの出し惜しみをせずに、新しい教え方を積極的に開発して懇切丁寧に教えてもらえる先生との事だった。ウエッブサイトを訪れて内容を拝見したところ、教え方が画期的で目から鱗が取れる思いがした。早速そのことをメールで書いて、交信が始まった。私よりも一回り半くらい若くて40台半ばの、武道家としては一番活躍できる年代の先生だ。従来教えられていた指導法に対して疑問を抱いて、自ら工夫して開発した指導方法を積極的にウエッブサイトで公開している姿勢に、私と同じ志を感じて大いに共感を抱いた。
 私も従来とは全く異なる合気術の指導方法を開発し、従来一部の人たちだけが秘儀として独占的に伝えていた合気術を、その方法で広く一般に普及できると考えて武道月刊誌「秘伝」にその記事を掲載した。同じ志を持つ武道家としてその空手の先生からは激励のメールをもらえるものとばかり思っていたが、来たのは「天狗になっている、気をつけたほうがいい」という忠告だった。彼がもし私と会っていて実際に私の力量を確かめた上での忠告ならばまだ分かるが、2、3回メールをやり取りしただけでユーチューブに載せてある私のVTRすら見たことも無く、私の力量を単に自分の思い込みで推測しただけで「記事の内容は尊大だ」と非難してきたのだ。それはまさに自分の力量に対して謙虚に徹し、「相手の力量を的確に測る努力を怠らない」という武術家としての基本的な心構えが全然できていない証拠で、彼がいつも自分のウエッブサイトで書いている謙虚さからは思いも拠らない態度だった。非常に落胆し、それ以降の交信を続ける気持ちが無くなってしまった。
 一方それと全く逆の体験をしたことがある。三菱自工を辞めて日本ビクターに移って配属された部署での体験だ。そこはテレビ研究所で、次世代VTRの極秘開発をしているプロジェクトチームだった。私の上司となった人は高専卒でメカ・グループを束ねていた。当時の私は三菱自工でエンジンの開発をしていた振動専門技術者として、自分の技術にうぬぼれて他の人のレベルをきちんと測れるような心構えを持っていなかった。この上司はそんな私に対して2ヶ月も掛けて隅から隅まで完全に把握した後で、完璧な自信を持ってある日突然に私へ雷を落とした。彼の怒りは尤もだった。当時の私は自分の技術をその開発でどう活かすかということしか考えられず、その開発を成功させるためには自分自身でどう努力するかという考え方が出来ていなかったからだ。その人は非常に頭の良い人で、私の力量や欠点などは一週間も一緒に仕事をすれば十分すぎるくらいに的確に把握できたに違いなかった。しかし彼は、自分が高専しか出ておらず大学院の博士課程まででた私には彼が計り知れないものを持っているのかもしれないと慎重になり、怒りたいのをじっと2ヶ月も我慢して待ち、自分の考えどおりに間違いないことを100%確認した上で、私に雷を落としたのだ。あれからもう30年以上経ったが、この人は私が生涯ボスと呼べるただ一人の人で今でも親しくお付き合いさせていただいている。
 もう一つの好例がある。私が23年前にオランダへ赴任することが決まったとき、真っ先にしたことは東京の神田に行き、行きつけの書店でオランダに関する本は言葉から旅行記にいたるまで全て購入して読み始めたことだ。それでもオランダに来てから遭遇したことは"想定外"のことばかりで、毎回大変苦しんだものだ。当時オランダに赴任してきた日本人達も大体が私と同じような行動パターンで、みな同じ本を読んでそれぞれの体験情報を交換し合っていた。
 ところがこの10年くらいでは、オランダに赴任してくる人たちは会社のトップであれ一般の従業員であれ、オランダ関連の本は一冊も読まずに"堂々と"赴任してくる人ばかりだ。話をしても、そのことすら、つまり自身の準備不足ですら自慢げに語りだす愚かさだ。
 みな余程に自分達の力量に自信があるのか、それとも準備をするという基本的な心構えができていないのか、ともあれそのような人たちでは文化環境が全く異なる外国で何か問題に遭遇したら、必ずそうなるのだが、ひとたまりも無く崩れてしまうのは間違いない。
 例えばオランダでの労働慣習を全く勉強せずに会社を設立し、日本と同じようにオランダ人たちをいきなり無期限で採用してしまい、そんな会社だから雇った人たちの質も悪くて仕事が進まず、にも拘らず一人も解雇できない状態となって仕事どころではなくなった会社もある。これなどは設立前に本を買って読んでおけば間違いなく避けることができた問題だ。
 私が日本の本社の責任者なら、赴任前にオランダ関連の本を読むなど必要最小限の準備すらできないような連中は即刻日本に呼び戻してしまう。そんな人たちが役に立つわけが無いからだ。尤も最近のオリンパスの不祥事でも明らかになったように、日本の本社でも指導者の質が見苦しいとしか言いようが無いくらいに落ちているので、上も下も同様ということなのかもしれない。
 嘗てオランダでの最初の勤務先で責任者をしていたときのことだが、オランダ通産省の企業誘致局の紹介でオランダに生産拠点を作るという、日本を代表するXX重工という超大企業の現地責任者が話を聞きに来たことがあった。当時の勤務先は小さいながらも研究所、工場、それに販売会社を有す組織だったので、相談に来たというわけだ。話が始まって驚いたことは、その責任者がオランダの事情を見事なくらいに知らず、同席した本社からの組合の責任者が代わって聞くべきことを次々に質問してきた。最後の雑談になって更に驚いた。この責任者はオランダについて何も調べていないくせに、ゴルフ会員権が安く入手できて、どこのクラブが良いかという情報は私以上に熟知しているのだ。彼がオランダへ赴任するに当たって、一体何に関心を払っているかを見事なくらいに知ることができた。その会社は大きな組織なので実際には彼を補佐する人が何人もいて、何か起きても心配は無いのであろうが、とんでもない話だった。
 このような心構えが出来ていない人が組織のトップに安穏と収まっていられるというのは、その企業に危機的な状況が迫っていないからであろう。そうでなければ適材適所を貫かない限り、会社は存続できない。これは実業の世界も武術の世界と全く同じだ。日本の経済は既に下り坂となり、これから益々存亡を掛けた戦いが厳しくなるというのにも拘らず、そこで働く人たちは厳しさへの心構えができておらず、この先の行く末は暗いとしか言いようが無い。
At the starting of AIKI Web Course
Cooperating with BAB Japan Co., Ltd., hereby I start AIKI Web Course in order to realize my long-standing desire to let as many as martial arts fans all over the world have the correct knowledge of AIKI and learn how to practice AIKI.

This course consists of
Part 1 as introductory articles, I explain a wide range of knowledge about what AIKI is, which contains 6 lessons.
Part 2 as main articles, for beginners/intermediate level, I explain how to practice AIKI to master. It contains 24 lessons.

The each lessons will be uploaded on BudoJapan website one by one every week.
I hope as many people as possible will be interested in AIKI and become able to practice it by following this course.

AIKI Web Course 25 Lessons