Shinkage-ryu Hyoho practiced in Poland
It was three years ago. I heard from a member of the Warsaw branch of our Gyakute-do, where I teach, that there is a group practicing Shinkage-ryu Hyoho in Warsaw. In Poland, there are many self-proclaimed "Kenjutsu Soke", and as a Japanese martial artist, I always deplore the current situation where people who can't even teach martial arts etiquette correctly teach "Kenjutsu". I was quite interested in their activity. So I contacted the Japanese Shinkage-ryu Hyoho Marobashi-kai through Masayuki Namba Sensei of Shinkage-ryu Hyoho Denshin-sha, with whom I have been interacting for more than ten years, and promised to interview them. However, immediately after that, Covid-19 became a worldwide epidemic, and the interview had to be postponed. And finally three years later, in the summer of 2023, this interview was realized.
History of Poland Shinkage-ryu Hyoho Marobashi-kai
Dr. Janusz Szymankiewicz was born in 1952 and is the chairman of Polish Shinkage-ryu Hyoho Marobashi-kai. For four years from 1974, when he was 23, he practiced Doshinkan Karate-do, which was popularized in Europe by Isao Ichikawa Hanshi. This was his introduction to Japanese martial arts. In 1979, He started learning Wing Chun, a form of Chinese martial arts that he is still associated with today.
In 1982, He first participated in a Ken-do training camp led by Kozo Ando Sensei and his student Kyoshi Iyama Sensei.
There, he met Mr. Witold Novakowski, a researcher of the history of Japanese Kenjutsu, and thanks to him, he was able to learn about the Shinkage-ryu Hyoho by reading books. And he was convinced that Shinkage-ryu Hyoho is the martial art he wanted to master.
In 2002, his friend Jerzy Pomianowski, ex. Polish Ambassador to Japan, returned to Poland. After returning to Japan, Mr. Pomianowski built a facility called Budojo in Warsaw where he teached Aiki-do and Kashima Shin-ryu Kenjutsu which he had learned in Japan. His activities were introduced as " Nippon Budo Report from Europe" in HIDEN Journal of 2010 year. And his connection, in the summer of 2004, Mr. Nobuki Narasaki and Mr. Yoshikazu Teraishi, who were the members of the Shinkage-ryu Hyoho Marobashi-kai, visited Poland and the first Shinkage-ryu seminar was held in Warsaw. Since then, Shinkage-ryu workshops have been held twice a year in Poland and Japan. In 2017, Shinkage-ryu Hyoho Marobashi-kai appointed Hiroshi Oba Sensei as the Shihan, i.e. representative instructor of the organization, and since then Oba Shihan has been visiting Poland regularly every year to teach Shinkage-ryu in Warsaw.
After that, from 2020, due to the spread of Covid-19, the exchange between Poland and Japan was suspended, but in November 2022, members of Poland Shinkage Ryu Hyoho Marobashi-kai visited Isehara City in Japan and resumed exchange activities. Then, in the summer of 2023, Hiroshi Oba Shihan and Katsuhiko Yoneyama Shihan-dai visited Poland and held a joint training camp in Zakopane, a scenic spot in the south of the country, with the participation of members from Belarus.
The spread of Kendo in Poland. Why is it Kenjutsu and not Kendo?
Kendo was first introduced to Poland in 1973, and today there are 300-400 kendo practitioners. In the background, there is a strong admiration for the appearance of Samurai introduced in movies. People have a desire to learn Kendo and be able to wield a sword like the Samurai they watch in movies. Over the years Kendo has developed its rules as a sport. Meanwhile Kenjutsu differs from Kendo in that there are no "rules" in competition or in actual fighting. In the sport of Kendo, and Kenjutsu as an old traditional martial art, the mindset when holding a bamboo sword and a wooden sword is completely different. Dr. Szymankiewicz is strongly attracted to this point, which cannot be obtained through Kendo, and keeps learning Kenjutsu.
Then, out of all the many Kenjutsu styles why he has chosen Shinkage-ryu? Because Shinkage-ryu was founded by Isenokami Nobutsuna Kamiizumi, the greatest swordsman in the history of Japanese Kenjutsu.
About 40 people, including 7 children, have participated in Shinkage Ryu Hyoho Marobashi-kai Dojo in Poland so far. Among its adult members are several medical doctors, businessmen, actors and a group of students from the Warsaw Institute of Technology. Besides Poland, There are also members in Belarus, and currently they have separate training sessions in Warsaw and Belarus.
Something like Kenjutsu is also popular in Poland.
In Poland, just like in other European countries, there are many people who claim themselves as "Souke" and teach their own "Kenjutsu". Even in alone Poland there are several such "Souke". This is impossible in martial arts such as Judo and Aikido, which have a unified organization, but in other fields such as Karate, Jujutsu, and Kenjutsu, there are many "Souke" in the world. Especially in Jujutsu and Kenjutsu, which are rather rare and is difficult to find a master who is well qualified, so it is possible for such "Souke" to have many disciples even if they are not in the proper level. For example, in Poland, there are probably as many people practicing "Kenjutsu" under such self-proclaimed "Souke" as there are officially a Kendo population.
What makes Japanese martial arts different from other martial arts is its basic attitude of respecting its spirituality. There are Japanese who have left Japan without learning these fundamentally important things and have only half-completed their training, and also a person who has only been taught for two or three years by a Japanese resident with martial arts experience, they could not have reached to the level of being able to teach not only the techniques themselves, but also such spirituality. The difference between learning Shinkage-ryu properly from a Japanese master and learning "Kenjutsu" from such self-proclaimed masters is immediately obvious to the viewer.
Aspirations in Teaching Shinkage-ryu in Poland
When teaching Shinkage-ryu to the members, dr. Szymankiewicz wants to teach in a way that the students will eventually become better than the teachers. During the process of teaching Shinkage-ryu, dr. Szymankiewicz has been working to find people who have the physical, mental and spiritual qualities that traditional martial arts, including Shinkage-ryu, place importance on, and has already recruited some promising people. It has been excavated so far. In teaching, it is important to always learn something by yourself and continue to improve what you are doing. He wants to replace it with a modern way that fits Polish culture.
As a Japanese martial artist, I strongly hope that as many Polish Kenjutsu fans as possible will come into contact with the real Kenjutsu of Shinkage-ryu, and realize the value of Kenjutsu, which can be said to be a representative of traditional Japanese martial arts, and the value of Japanese martial arts in general.
My impression of this occasion
I visited their training which was done just after their return to Warsaw from summer camp. A total of 8 people participated in the training, including 2 from Belarus and 4 from Poland, and 2 teachers from Japan, Oba Shihan and Yoneyama Shihan-dai. Also, one of the participants from Belarus was accompanied by two young daughters aged around 7 and 13 years old who enjoyed practicing together. One and half hours passed in a harmonious atmosphere. The guidance from the two teachers was also kind and polite, hand in hand. After the practice, we had a lunch at a nearby restaurant, and the four from Belarus had to go back to Belarus by car. At that moment I was moved by how those two girls hugged strongly Oba Shian and Yoneyama Shihan-dai as if they were their real grandfathers when saying goodbye each others. During the few days they spent together in Poland, the young girls must have come into contact with their warm and kind humanity. I felt that I saw in the two of Japanese instructors what a leader should be no matter it is martial arts or other arts. I am confident that Polish Shinkage-ryu Hyoho Marobashi-kai will inherit the true Japanese martial arts under their guidance, and will continue to develop with valuable human resources.
Note: What Shinkage-ryu Marobashi-kai is.
The Shinkage-ryu Hyoho Marobashi-kai was established in January 1969 by Tadashige Watanabe Shihan, who was entrusted with the inheritance and KOURYU of Shinkage-ryu by the 20th Shinkage-ryu Hyoho Toshinaga Yagyu Shihan. It has 18 Dojos in Japan, mainly in the Kanto region, as well as overseas bases in three countries: the United States, Russia, and Poland
---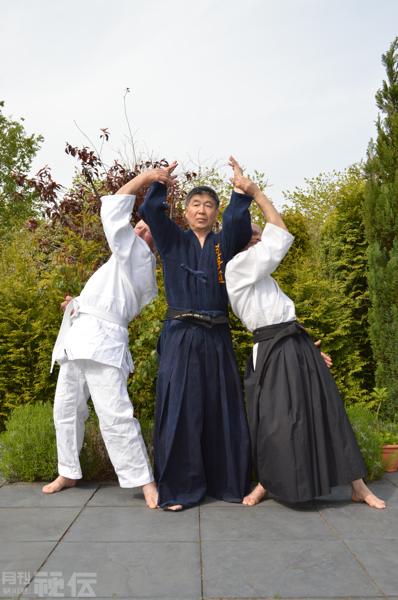 Wrote & supervised by KURABE Makoto SHISEIDO, 2nd Soushi (Grand master) of AIKI Jujutsu Gyakute-do
He was born in 1950 in Kashiwa city Chiba prefecture. Graduated PHD course of Science University of Tokyo. After learning Judo and Shito-ryu Karate-do, started learning Gyakute-do Jujutsu which was created under influence of Hakko-ryu Jujutsu and the other Ko Bujutsu. Since TANAKA Tadashi CHUSHUDO, founder of Gyakute-do, 1st Soushi, passed away and the Ryuha died out without a successor, he had started instructing Gyakute-do seriously to the local Budo fans in the Netherlands so that he can let the name Gyakute-do would not disappear. Besides, during pursuing Gyakute-do, he had discovered the theory of AIKI and had established the methods to realize AIKI and the practicing way in his original way successfully.
Time to time he often writes for the Japanese martial arts journal "Hiden". So far he has published books "Theory of Vibration Modal Analysis", "Story of Dutch", "Fast learning AIKI", etc., DVDs "How to master AIKI" etc.