IN THE FOOTSTEPS OF FUNAKOSHI GICHIN
Master Funakoshi Gichin (1868-1957) is universally recognized as "The Father of Modern Karate".
However, some dispute this title, which they attribute rather to Itosu Anko (1831-1915).
Actually, Itosu Sensei has been a great model of inspiration for Funakoshi Gichin. He had modified the Katas and had created the 5 Pinan to facilitate access to Shorin-Ryu for beginners. Itosu Sensei had also written in 1908 the 10 precepts of Karate (Tode Jikkun) which he had sent to the Ministries of War and Education of Japan.
Originating from the Tomari-Te, Itosu Sensei's Shorin-Ryu had become the emblem of the Shuri-Te. His style started to use straighter moves that covered long distances compared to Naha-Te.
Funakoshi Gichin has pursued the work of his Master by adding more
modifications. He has also conducted public exhibitions and has spread his Karate on a larger scale through his books and his publications.
Coming from a poet and a professor of philosophy, Funakoshi's Karate constitutes an art combined with a strong physical and mental discipline. He perfected it by adding his philosophical principles. His most popular quote being; "There is no first attack in Karate" (空手に先手なし)
This maxim, "Karate ni sente nashi", is not always clear to everyone and that is why this idea is often demonstrated by the Kata. A Kata always begins with a
blockage… However, some advocate that any intention of attack from someone, constitutes enough reason to use Karate. It is then acceptable to use an attack in order to defend yourself.
SHURI, KARATE AND KINGS…
The village of Shuri was built around the castle and used to be the capital of the Ryukyu kingdom.
About 3 miles separate the family home of the Funakoshi, from the heights of Shuri to the port of Tomari.
It is said that the young Gichin, although of fragile constitution, liked to take long walks and to imagine leaving for distant destinations from this very active port.
Around here, people have a famous saying; "one can go from the port of Tomari to Shuri without going through Naha…"
This thought had a more political significance in the times of the Ryukyu kingdom, but it still persists in 2023.
Legend also has it that the village of Shuri is impenetrable, both in its secrets and in its immense maze of hilly lanes and strenuous goat trails. Each neighborhood is unique and tells its own story.
Coming from Tomari, we pass through Makabi, which is today the burial place for 3 generations of legendary Masters; Matsumura Sokon, Itosu Anko and Hanashiro Chomo Sensei. On the other side of the river, we have access to the hills of Shuri and to the very elegant Yamakawa Cho (Mountain-river-district) where the members of the Funakoshi family were born. In fact, most of the Shuri-Te Grand Masters were also born in Yamakawa.
Then, there is on another slope, the noblest district of all, which is called Kinjo-Cho.
If Yamakawa faces the West, with a view of Tomari and the East China Sea, Kinjo Cho faces mostly the South. It is built right up against the castle, with a view of the hills and Naha in the background. This is also the place where a sublime medieval paved street of 330 yards is located, as well as a tropical oasis with multi-hundred-year-old trees. One of which is said to be 1000 years old!
The jewel, for us Karateka, is located just after, to the South-East of the castle and is called Sakiyama Park. On a plateau at the top of the park and at the same level of the fortress, sits the mythical open-air Dojo. This is where the warriors were training for generations, in the different martial-arts of Shuri-Te and Kobudo. Interesting detail; this is where the famous Awamori distilleries have been operating for centuries.
Then, down below on the North side of the fortress, Sueyoshi Cho hosts the most amazing park. A jungle mixed with a pine forest. This is the very place where Funakoshi Gichin came to draw inspiration for his poetry. The pines undulating in the sea breeze gave him that poetic nickname "Shoto".
I have been following Funakoshi's footsteps on roads, paths, etc… in hills and valleys for almost 12 years and my French friends sometimes call me the "Marcel Pagnol of Okinawa". He was a writer and a famous cineast who specialized in tales and villager's stories, on a South France mountain.
Sueyoshi park is definitely the place where the souls of Funakoshi Gichin and his son Gigo/Yoshitaka are still present. 2 pines were planted in their memory on the edge of a clearing, surrounded by ancestral pines. This glade also looks very much like an open- air Dojo. Also 2 columns separated by a few meters indicate the pine symbolizing Gigo/Yoshitaka and the pine dedicated to Gichin. Gigo's pine recently died from a fungal infection, which killed many other pines on the island 2-3 years ago.
Today, a small red fence surrounds the place where the tree has been cut.
The adage "No one is a Prophet in his country" has applied to the Funakoshi and their memory was put on hold for a while among certain groups in Okinawa. One of the reasons was that the Funakoshi were accused of having given away Karate to Japan and the other reason is that Shotokan Karate has been very successful worldwide, putting a shadow on its true origins. However, time has healed the problem and Funakoshi Gichin is now honored and well recognized in Okinawa.
To recap, there are now 4 main sites on Okinawa that officially celebrate the memory of the "Father of modern Karate".
1)-Sueyoshi park, with these 2 pines and columns planted and erected in 1998 and 2004, in memory of Funakoshi Gichin and his 3rd son Gigo/Yoshitaka. Yoshitaka is credited for having "japanized" the style by including the precepts of Kendo; introducing the spirit of Bushido, with similar very low and solid lunges, as well as of Judo with its sweeps.
2)-Sakiyama park, with its beautiful black granite stele (2018) on this green plateau which represents the most legendary Dojo in the world at the top of Shuri and alongside the Castle. Shuri-Te Karate and Kobudo were widely developed there.
3)-Ōnoyama park/Budokan of Naha, which has since 2007, a very beautiful monument dedicated to Funakoshi Gichin.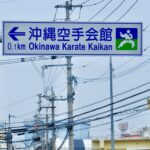 4)-The very recent "Karate Kaikan" (2017), built on another hill surrounding
Naha, also celebrates Funakoshi Gichin with photos, quotes and especially the originals of the books written by the Master.
---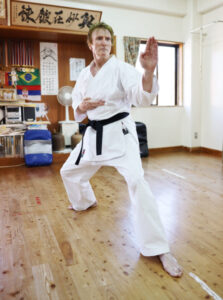 Daniel Mardon; the Karateka-Therapist 
Creator of Aromapressure® method and physiotherapist with a valid US license, Daniel Mardon was born in Paris.   One of his specialties is to teach and to perform lymphedema and subcutaneous tissue-damage care, after radiotherapy for cancer patients at medical institutions and subcutaneous tissue-circulation stimulation before and after surgery.
He was also a therapist for two famous soccer teams in Paris.    Since 2005, he has focused on producing top-class hotel spas in Japan, as well as physiotherapy education and awareness-raising activities for health care professionals.  Author of several books, among his major publications includes "The Physiology and Bodywork of Physical Therapy " (Published by BAB Japan) and DVD "Daniel Mardon Aromapressure® Method " (Pony Canyon). He regularly appears on television and radio shows, and has featured in numerous media publications.